Contact Lenses
Today, contact lenses are more versatile, more comfortable, and more convenient than ever before! Thanks to advances in vision care technology and lens materials, contact lenses offer satisfying, easy-to-wear, and safe solutions to address a broad range of needs.
At the office of Envue Optometry, you can feel confident that your family's eye care needs are in the best of hands. We provide experienced and compassionate care to help patients of all ages enjoy the benefits of healthy eyes and vision. If you or any member of your family is interested in getting examined and expertly fitted with contact lenses or would like additional information, we're happy to help. From assessing eye health to accurately fitting you with the right contact lenses and instructing you in the proper lens care methods, we're with you every step of the way.
It's essential to keep in mind that selecting the correct contact lenses is based on your vision prescription, eye anatomy, and daily needs. During a contact lens exam and fitting, our eye doctor will measure your eyes, select the proper lens type, and determine the precise amount of vision correction that's required. In addition to prescribing lenses for corrective and medical purposes, contacts are also available to cosmetically transform and enhance eye color.
According to the most recent statistics, close to 45 million people across the country wear contact lenses. In many cases, they are used to address refractive errors.
By wearing contact lenses, individuals who are dealing with either one or a combination of the following refractive errors can enjoy clear, crisp vision:
Nearsightedness (myopia)

Farsightedness (hyperopia)

Blurred vision (astigmatism)

Age-related loss of close-up vision (presbyopia)
A contact lens is a small synthetic lens that is placed on the film of tears covering the surface of your eye. Although most people wear contact lenses for corrective purposes, a smaller percentage of people use them for medical and therapeutic reasons. Contact lenses are also available for cosmetic purposes for individuals looking to enhance or transform their eye color. However, as all contact lenses are considered medical devices, even cosmetic contact lenses require a prescription.
Choosing the correct design and accurately fitting the contact lenses are essential for healthy and comfortable wear. While getting fitted for contact lenses is typically a routine procedure, some people fall into the "Hard to Fit" category. At the office of Envue Optometry, we offer a comprehensive range of vision care services, including hard-to-fit contact lenses for the treatment of eye irregularities related to disease or injury.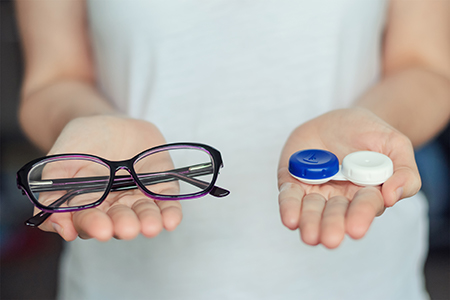 Why choose contact lenses?
Although eyeglasses are available in an extensive range of fashionable and attractive styles, many people choose to wear contact lenses as an appealing part-time or full-time alternative.
In addition to correcting a broad spectrum of vision impairments, contact lenses offer several benefits, including the following ones:
Contact lenses are easy to wear, provide greater freedom and greater flexibility.

Allow wearers to enjoy optimal vision that looks and feels natural without the appearance of eyeglasses

Eliminates the limits of the eyeglass frame with the entire field of vision unobstructed and in focus

Unlike eyeglasses, contact lenses do not fog up with changes in temperature or get splattered by water in wet weather or conditions

With contact lenses, non-prescription sunglasses can be worn

Contact lenses provide unmatched freedom of movement in sports and other leisure activities.
Your Contact Lens Exam
If you are interested in wearing contact lenses or you are due to have your current pair of contacts checked, our office will perform a specialized evaluation to measure and assess your eyes. Unlike a routine eye exam, an exam for contact lenses will ensure your contact lenses fit properly while providing the required vision improvements. It also helps determine if your eyes will be able to tolerate wearing lenses without any harmful consequences. However, a contact lens exam does not replace a comprehensive or routine eye exam to assess eye health and visual function.
Different measurements are required for contact lenses because, unlike an eyeglass lens, positioned approximately 12mm away from your eye, a contact lens sits directly on the surface of your eye. Once your eyes have been measured and evaluated, our office will discuss the types of contact lenses and wear schedules available to you. Depending upon your vision requirements and lifestyle, we'll guide you in choosing the most suitable and effective contact lenses to address all your needs.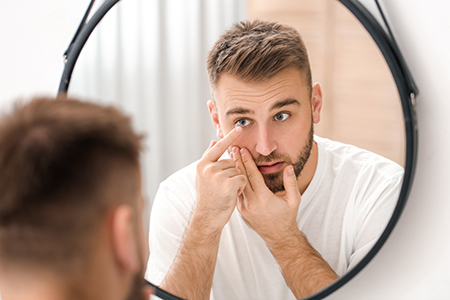 Selecting the right contact lenses to meet your needs
Choosing the right contact lenses to address your needs depends on several factors, including your prescription, eye anatomy, how much wear you intend to wear your contact lenses, and your ability to clean and maintain them as required. We'll also discuss any medical conditions, environmental factors, lifestyle demands, or budgetary considerations that can influence your choice.
The following types of contact lenses are available:
Soft Contact Lenses
By far, the most comfortable and popular contact lenses available today are soft contact lenses, made of water-absorbing materials called hydrogels. Because of the high water content, these contact lenses are soft, flexible, and extremely easy to wear. Soft contact lenses come in many versions and are available for daily wear, extended-wear, or as disposables.
Daily-Wear Contact Lenses
Daily-wear disposable contact lenses are a type of soft lenses designed to be worn during the day and discarded nightly. Much more convenient and lower maintenance than other types of contact lenses, disposable lenses are a popular choice for many contact lens wearers.
Extended-Wear Contact Lenses
Extended-wear contact lenses can be worn both daily and overnight for longer periods of time. While some extended wear contact lenses are FDA approved for one to two weeks of continuous wear, others can be worn up to 30 days. Available as either gas permeable or soft contact lenses, an extended-wear contact lens prescription offers the convenience of not having to frequently remove your contact lenses for maintenance, along with the benefit of waking up to clear, crisp vision. However, in the absence of proper care, extended-wear lenses may pose a higher risk of infection.
Rigid Gas-Permeable Lenses
More rigid and durable than soft contact lenses, rigid gas-permeable (RGP) contact lenses allow a healthy flow of oxygen to reach the eye. More resistant to lens deposits than soft contact lenses, RGP lenses do not need to be replaced as often and are less likely to harbor bacteria. Though initially not as comfortable as soft lenses, due to the ability to retain their shape, RGP lenses can provide crisper, clearer vision.
Toric Contact Lenses
Toric contact lenses are specially designed contact lenses used to help correct astigmatism. Typically available as soft contact lenses, some toric contact lenses also come in a rigid gas-permeable version.
Bifocal and Multifocal Contact Lenses
Bifocal contact lenses contain two prescriptions in each lens to improve near and far vision for individuals affected by refractive errors and age-related presbyopia. Multifocal contact lenses have more than one lens power to provide clear vision for objects at multiple distances. While bifocal contact lenses contain two distinct segments with different prescriptions, multifocal contact lenses transition gradually between lens powers.
Monovision
Monovision offers an alternative approach for individuals who may be having difficulty getting used to bifocal or multifocal contact lenses. In these cases, single vision lenses are worn in each eye, with one correcting for distance and the other correcting for near vision.
Tinted or Cosmetic Contact Lenses
For individuals seeking a new look, contact lenses are available to correct vision and to enhance or change one's natural eye color.
At the office of Envue Optometry, we firmly believe that communication is essential to good patient care. In addition to performing a thorough contact lens examination, we also take the time to address every question and provide detailed information on caring for your new contact lenses.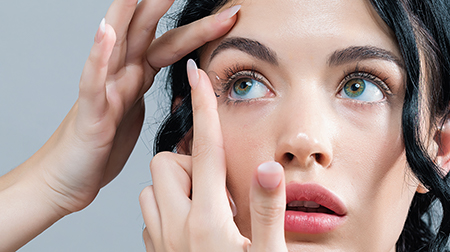 What are Hard-to Fit-Contacts?
While for many people getting contact lenses is a routine procedure that offers a relatively quick and easy solution for their vision needs, there are others who fall into the "Hard to Fit" category.
Difficulty wearing contact lenses may be due to any number of factors, including:
Eye Shape

Astigmatism

Presbyopia

Dry Eyes

Giant Papillary Conjunctivitis

The Aftermath of Lasik or other Refractive Surgery

Keratoconus

Pellucid Marginal Degeneration

Corneal Scarring
Yet despite these issues, it's essential to keep in mind that these eye conditions do not rule out the possibility of wearing comfortable and effective contact lenses to address your vision needs. Our eye care team is skilled and experienced in the fitting of specialized contact lenses and will find the most suitable ones to fit your eyes and improve your vision. Furthermore, if your eye condition requires treatment, we'll provide you with the most appropriate guidance and recommendations for care.
How to care for your contact lenses
Proper contact lens care is essential for maintaining eye health and reducing the risk of infections. Contact lenses must be worn, cleaned, and replaced as instructed. Hands should be washed, rinsed, and thoroughly dried before handling your contact lenses. Never wear lenses beyond the recommended time and replace them as scheduled. If any eye discomfort or vision impairment develop, it is important to remove your contact lenses and make an immediate appointment for care.
Remember, your contact lens prescriptions should be evaluated annually. At this visit, we'll perform a thorough exam to check your current contact lenses as well as the overall health of your eyes. New contact lenses will be prescribed if there has been any change to your vision or if innovations in care have made improved ones available.
FAQs Contact Lenses
+
What are the differences between an exam for eyeglasses and one for contact lenses?
Unlike an eyeglass lens positioned approximately 12mm away from your eye, a contact lens sits directly on its surface. In addition to determining the lens power needed to correct any vision impairment, your contact lens prescription requires information about the anatomy of your eye, the curvature of the cornea, the diameter of the lens, and other parameters. This data helps ensure an accurate fit and optimal vision correction, which in turn supports healthy and comfortable wear.
+
Can contact lenses damage my eyes?
Although contact lenses offer a convenient and comfortable alternative to eyeglasses, it's essential to handle, wear, and maintain them as directed. With proper care, the risk of problems is quite low. However, not wearing or taking care of your contacts can cause significant problems and lead to eye infections, corneal abrasions, dry eyes, corneal ulcers, or other issues, including vision loss. Remember, it's essential to be vigilant and get professional guidance and care as soon as a problem develops.
+
Are contact lenses right for everyone?
While contact lenses provide millions of people with an effective and satisfying solution for a broad range of vision impairments and eye issues, some people cannot comfortably or safely wear them. If you are prone to eye infections, have severe allergies or dry eyes that are not responsive to treatment, are exposed to a dusty daily environment, or cannot properly care for contact lenses, we'll recommend a different option in care.
+
Can children wear contact lenses?
While, in some ways, contact lens considerations for children are the same as those for teenagers and adults, some significant differences require further discussion. Whether or not a child is a candidate for contact lenses and at what age they can safely wear them depends on several factors. For one thing, it's essential to evaluate how well a child can handle the responsibility of safely and properly caring for their contacts. Another consideration is the presence of underlying medical conditions or significant seasonal allergies. At the office of Envue Optometry, we provide skilled and experienced care. If you are interested in contact lenses for your child, we're well equipped to advise you on the healthiest and safest vision care options.
+
Can I shower, take a bath, or swim with contact lenses?
The United States Food and Drug Administration recommends contact lenses not be exposed to any form of water. The reason is that certain bacteria present in impure water can become attached to contact lenses, increasing the risk of infection and possible vision loss. However, if lenses are worn in a bathtub or hot tub, it's essential to avoid getting water splashed in your eyes. Also, tight-fitting goggles can offer a measure of protection when swimming with contact lenses.
Based on research and scientific evidence, the American Optometric Association offers the following advice:
"If lenses are accidentally exposed to water, instill a lubricating drop to help loosen the lens on the eye then remove the lens with clean, dry hands. Next, clean and disinfect the lens before re-inserting, or discard the lens. Never sleep in a lens that has been exposed to water without first cleaning and disinfecting it. If lenses were removed prior to getting in a bathtub or hot tub, they must be properly cleaned and disinfected before being re-inserted."
+
How long is my contact lens prescription valid?
A prescription for contact lenses is valid for a year. Purchasing contact lenses requires an annual eye exam to generate a valid prescription.
+
How much do contact lenses cost, and are they covered by insurance?
It's always worthwhile to invest in your vision! With that said, the cost of contact lenses varies. It all depends on the type of lens, whether they are daily or extended wear or specialized lenses designed for a specific purpose. Most vision insurance plans provide some coverage for contact lenses. However, copays and coinsurance rates can vary by plan. In some cases, when a medical condition precludes eyeglasses, a patient may receive coverage for contacts under their medical insurance.
+
Why choose the office of ] for care?
At the office of Envue Optometry, we provide the finest quality of care to help patients of all ages maintain healthy eyes and enjoy optimal vision. We offer a comprehensive range of services from eye exams, prescription lenses, and all types of contact lenses, to vision screenings to detect any signs of disease or injury affecting the health of your eyes. Our position at the forefront of advances in vision technology and treatment methods demonstrates our dedication to serving our patients' needs. It's also the reason so many patients choose our office for care.